Thanks to the enormous success of the March 5 writing workshop for women veterans and women family members, Tracy will team up again Oct. 1 with Dress for Success Triangle and the Women Marines Association/NC-3 Semper Fi Chapter.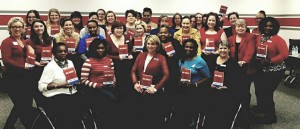 This time, the free daylong event will be divided between an introductory morning session for new women writers and an afternoon advanced session for returning writers of the March 5 inaugural workshop.
For new writers, the "Owning & Writing the Military Story of Your Life" introductory event will be held 8:30 a.m. to noon in Raleigh (actual location TBD). Attendees will receive a complimentary copy of Tracy's new breakthrough writing text, On Point: A Guide to Writing the Military Story. Afterward, morning session attendees will be treated to a free lunch with the returning writers of the March 5 inaugural class.
The afternoon advanced session for the returning inaugural class of writers will be held  1:30-4:30.