---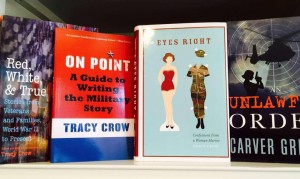 Your story matters, too! No other writing guide specifically addresses the complications of converting military experience into meaningful storytelling. Whether you're writing for self-reflection, a family legacy, or publication, let ON POINT lead the way. Order your copy here!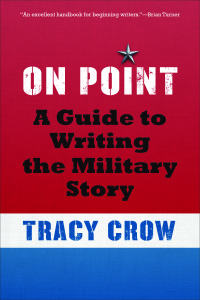 "A great tool for veterans, military service members, military family members, and for instructors of creative writing."—Brian Turner, author of My Life as a Foreign Country

"Both useful and graceful. . . . This book is essential for those who want to share their perspective on the growth, the ironies, the emotions, and the fundamental truths of the military experience."—Janet Burroway, author of Writing Fiction: A Guide to Narrative Craft

"Tracy Crow has written the perfect writing guide. Her advice is crisp, clear, and indispensable: just what you'd expect from a former Marine turned author."—Dinty W. Moore, author of Between Panic and Desire and the director of the creative writing program at Ohio University

"Finally! A straightforward, practical primer. . . . On Point provides the necessary tools for converting one's military experience into meaningful storytelling."—Dwight Jon Zimmerman, #1 New York Times best-selling author and president of the Military Writers Society of America

"The world needs Tracy Crow's writing guide because no other book has been written specifically for military veterans with stories to share. The advice is solid, her examples relevant, and her approach inspirational."—Lee Barnes, author of Gunning for Ho and When We Walked Above the Clouds: A Memoir of Vietnam

---

RED, WHITE, & TRUE — 32 true and unforgettable stories written by veterans and their families. Order your copy here!
 "I have not read a more awe-inspiring collection of ground truth of the human experience than the stories I found in Red, White, and True. Deeply moving, compelling, and at times emotionally wrenching to the point of tears, Red, White, and True is an unforgettable and thoroughly rewarding reading experience."—Dwight Jon Zimmerman, New York Times best-selling coauthor of Lincoln's Last Days and coauthor of Uncommon Valor

"If you are or have been a member of the military, read this book. If you love or have loved someone in the military, read this book. If you don't know anyone in the military, read this book. It's a revelation."—Pinckney Benedict, author of Miracle Boy and Other Stories and Town Smokes

"I know of nothing else like this: thirty-two writers—veterans, military spouses, and now grown children of veterans—all sharing how their lives have been affected by military service."—David Abrams, The Quivering Pen

"With the U.S. military yet again stepping into new roles around the globe, Red, White, & True is a timely collection."—Colette Bancroft, Tampa Bay Times

---

"Every Marine has a story. This one is mine." Order your copy of EYES RIGHT here !
"Crow's is an engrossing story, and her impeccable storytelling skills bring her battles and triumphs—in the military and at home—vividly to life."—Publishers Weekly

"A riveting memoir!"—Fred Leebron, author of Six Figures

"What's refreshing about this memoir is the absence of finger-pointing or assignment of blame. Crow tells her story in a clear voice devoid of self-indulgent apologia. With humility and clarity, she covers both the betrayals she encountered and the self-discovery she made in the aftermath of the maelstrom in whose center she found herself."—Lorrie Lykins, Tampa Bay Times

"Eyes Right provides fascinating details about Marine life, from training exercises in the high desert to the intricacies of relationships with superiors, subordinates and officers."—Shelf Awareness

"You might not know that the female-soldier memoir is a genre. Perhaps you don't know that because so few of these true accounts were written by professional writers like Tracy Crow, enlisted women who later became creative-writing professors."—Village Voice

"This book will be of interest to military and Marine Corp historians as well as feminists and female Marines and soldiers."—Therese Nielson, Library Journal