THIS MARCH WORKSHOP IS UNDERWAY

But please watch for news about Tracy's JUNE online workshop!
Here we go!
Another year later, another "virtual" spring writing workshop. We'll just ha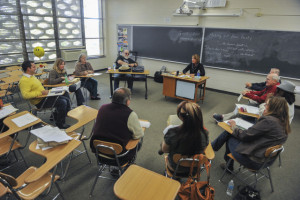 ve to imagine ourselves in a room together such as in the photo here, but our results will be equally positive and just as one-on-one, I assure you.

This year, I'm accepting 10 writers!
How does this work?
You'll email your writing submission and receive my thorough feedback with suggestions for how best to revise based on mechanics, pacing, plot, character development, setting, use of sensory language, tension, resolution, etc.
Then you'll resubmit a revision, or a new writing submission — your choice!– and again, I"ll share my feedback. Our goal will be to co-create the strongest work possible by the end of our March workshop. (Outcomes vary with each writer's skill and commitment level.)
Submissions may be fiction or nonfiction, and less than 7,500 words.
Email writing workshop submissions to: tracy@tracycrow.com. (Please ensure you include For Workshop in your subject line.)
Register by Feb. 15 with your payment of $35! Let's do this!